Don't forget tomorrow is the last day to register for the Mother/Son Skate Night! Details and sign-up form can be found on our website under Virtual Backpack for October.

Today we wore Neon & Tie Dye because we are TOO BRIGHT for DRUGS! No School tomorrow - Happy Weekend! See you on Halloween!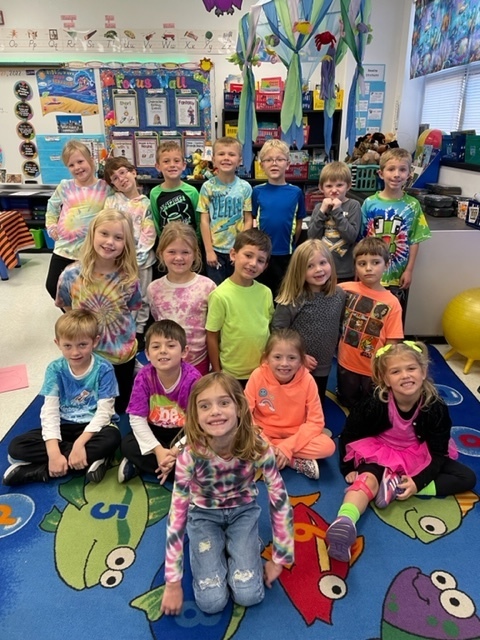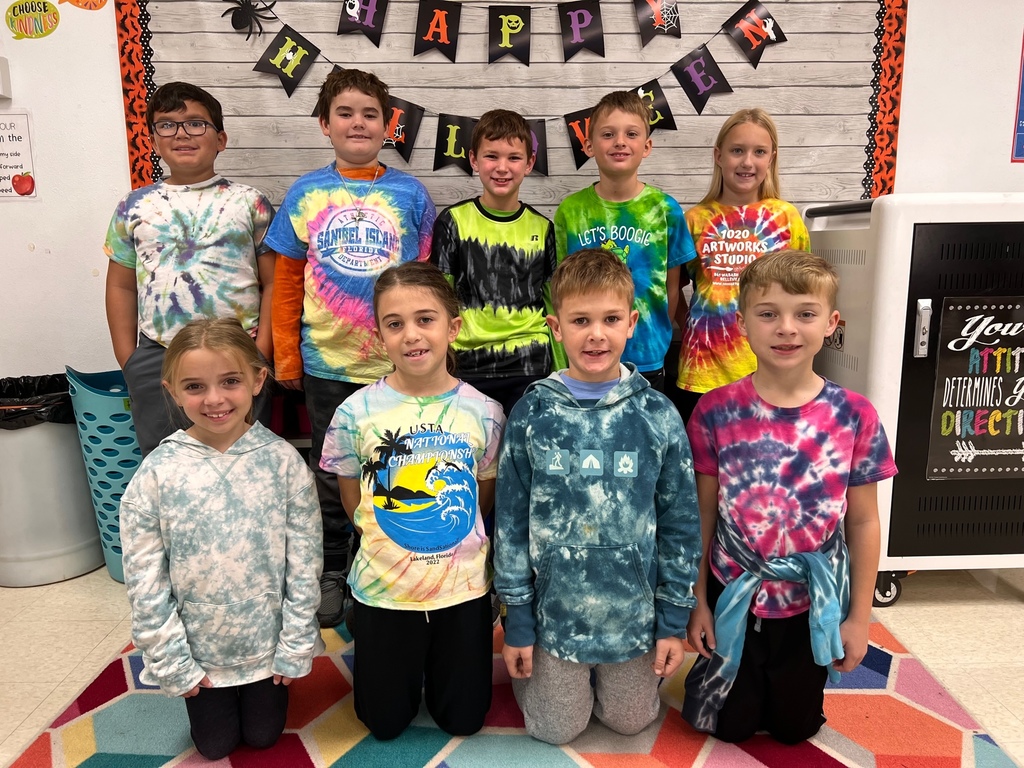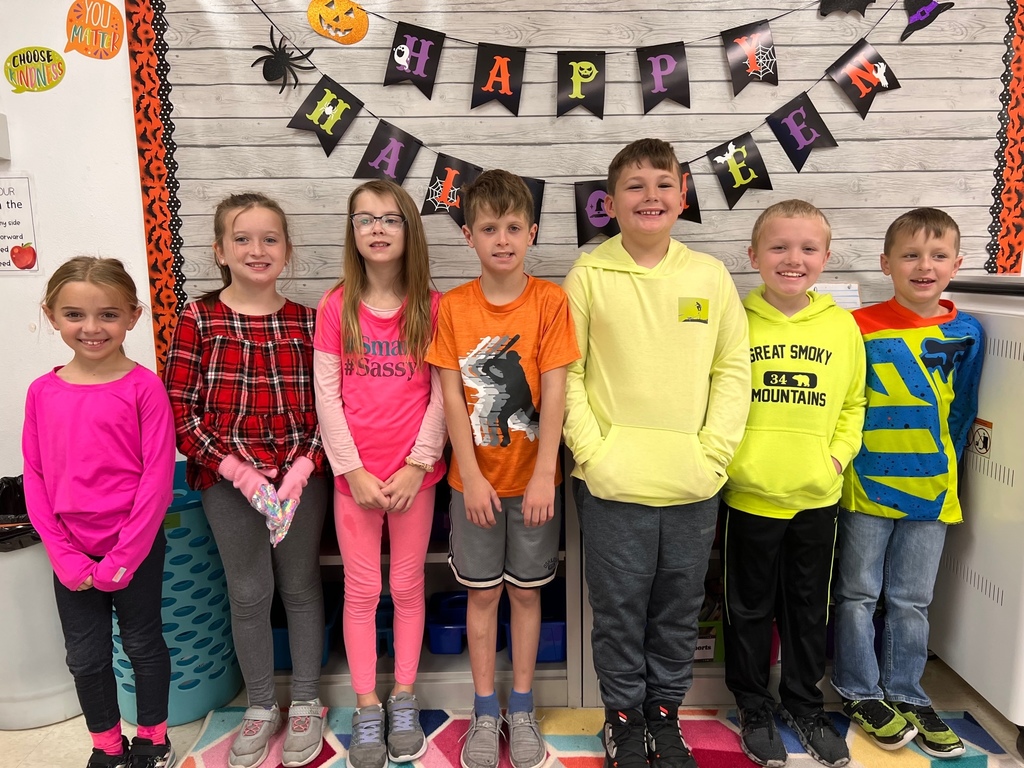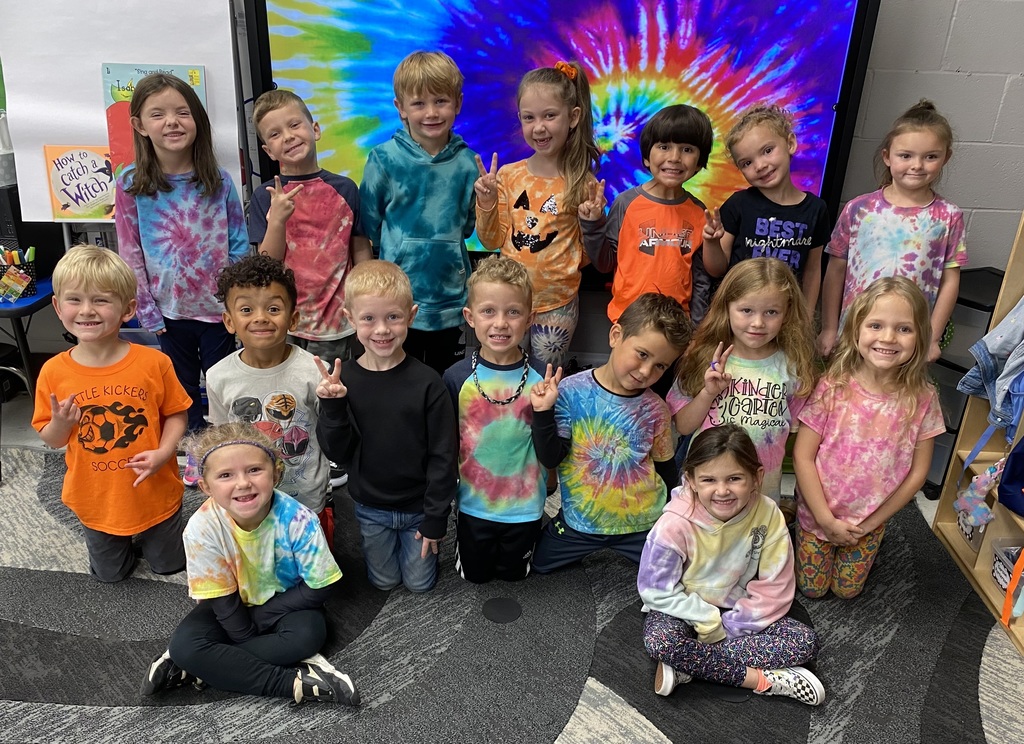 Tonight is our last night of Parent/Teacher Conferences and the last night of our Silent Auction. Silent Auction ends at 7pm. Make sure to get your bids in before then! You'll be notified early next week if you've won. Remember NO SCHOOL TOMORROW! We'll see you on Monday for some awesome Halloween celebrations!

Kindergarten Pumpkin Decorating Winners! 1st Place: Front Row (L to R): Zachary Vartanian, Wyatt Kunevich, Sutton Stuhlsatz 2nd Place: Middle Row (L to R): Delany Hettenhausen, Elison Brough, Lilly Thumann 3rd Place: Back Row (L to R): Joshua Germain, Sarah Manning, Aralynn Burch Great job to everyone!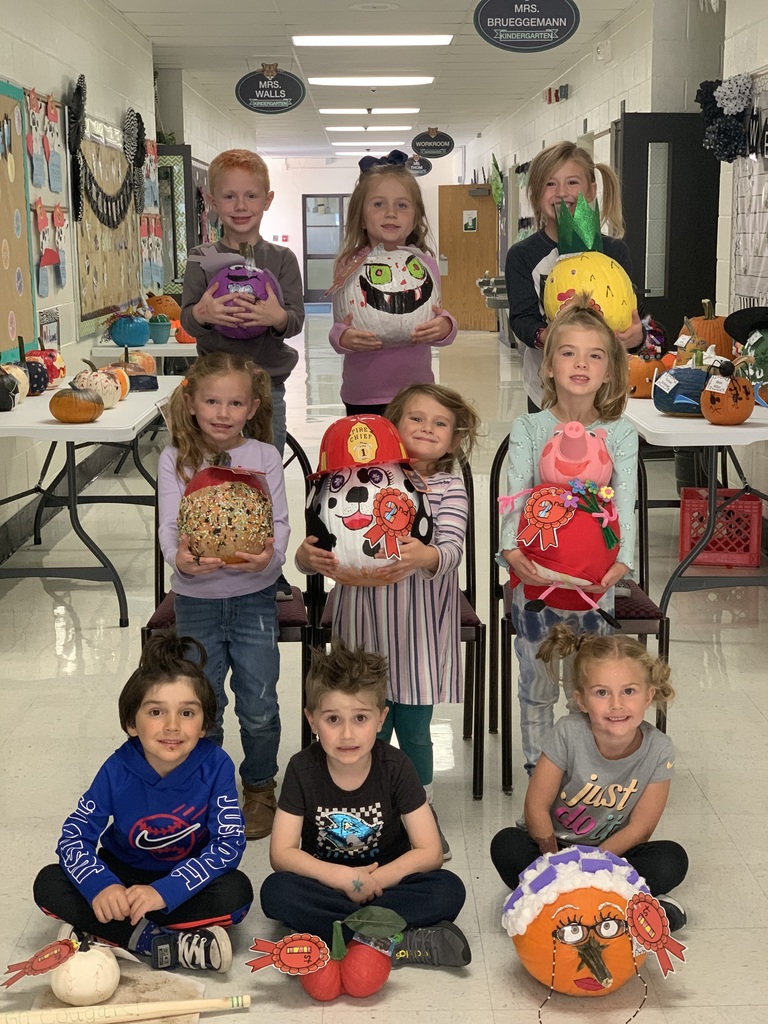 LAST CALL for Veterans Day pictures, to be included in our annual video, AND for signing up for our Veterans Day Breakfast is THIS FRIDAY, October 28th! Please see form for information!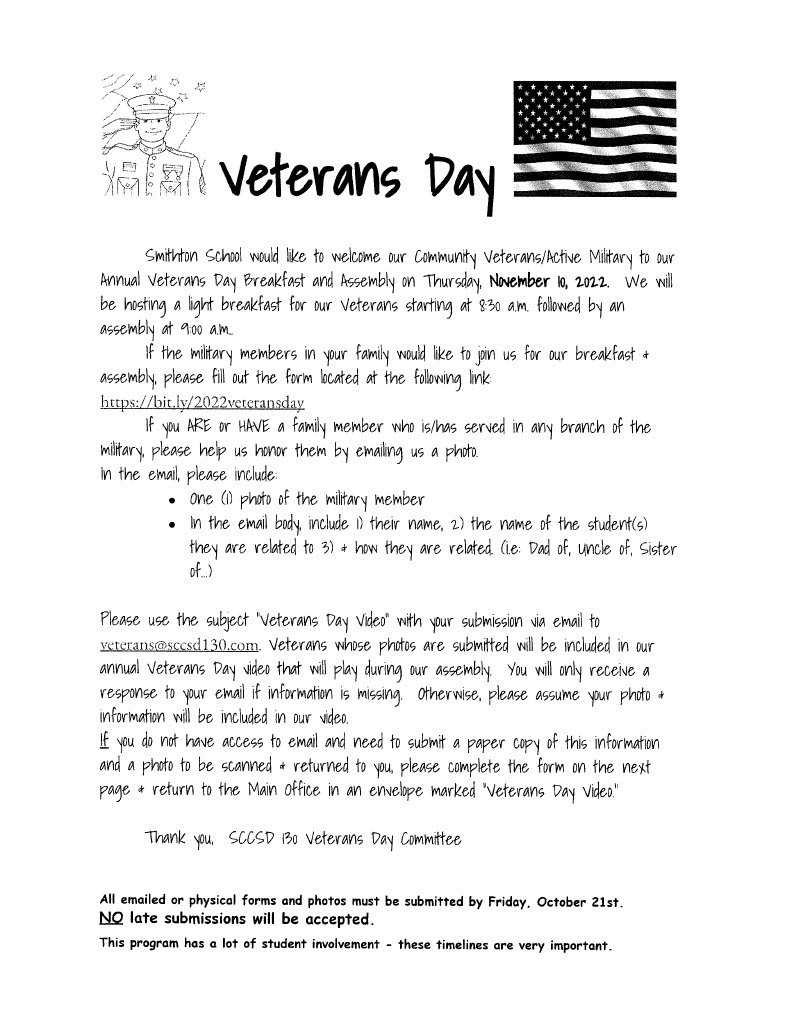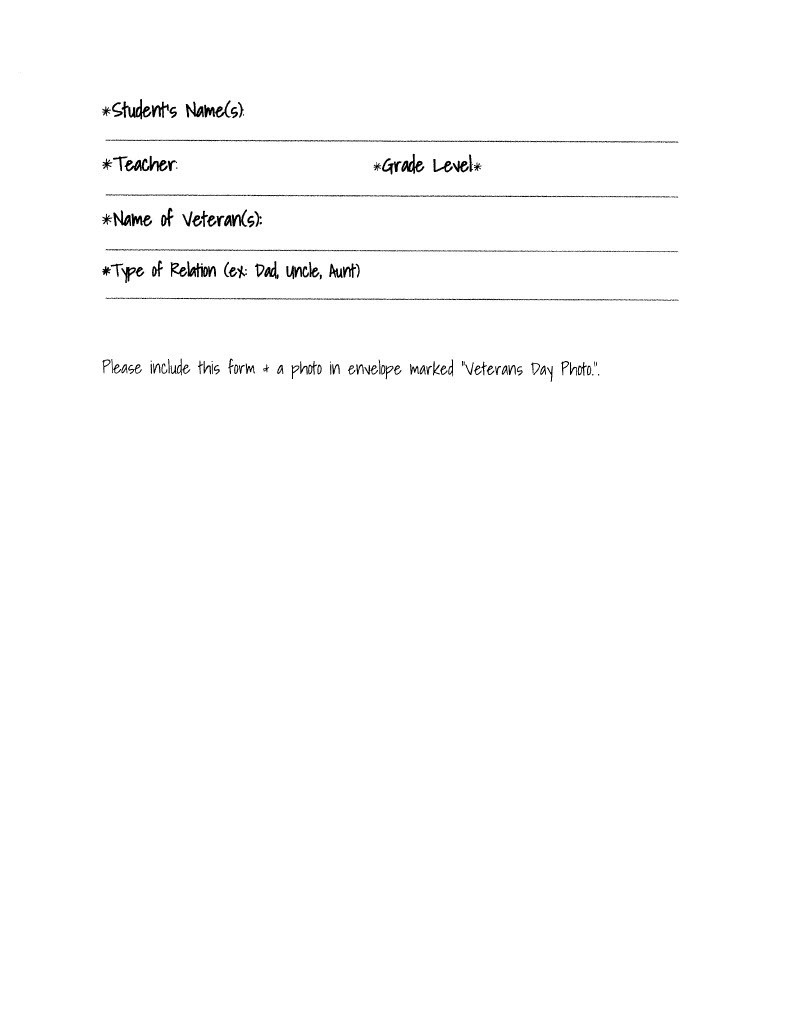 Looking for something to do on Halloween? St. John's UCC is holding a "Trunk or Treat" starting at 6pm on 10/31.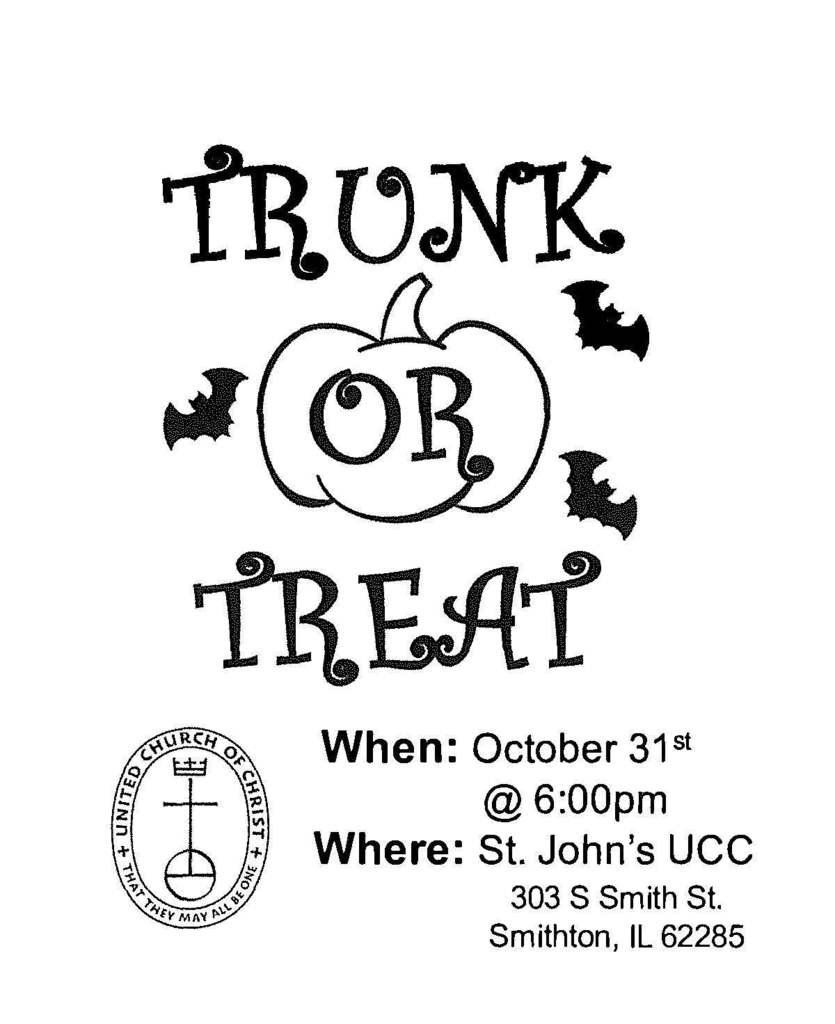 Here's our October "Board Brief" - a brief update about what went on at this month's board meeting! You can find previous month's information via our school website under the Board of Education heading.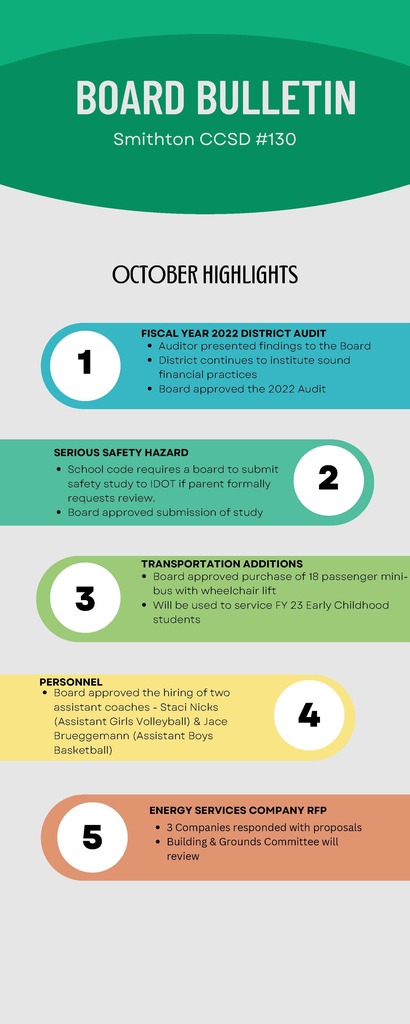 Joining us for conferences this week? Make sure you take a look and bid on our Silent Auction items. Items are located in the foyer and outside the main office. The auction is open until Thursday at 7pm. We have some great items and all money goes back to help out our teachers and classrooms! Cash, checks & credit cards will be accepted for payment after auction close.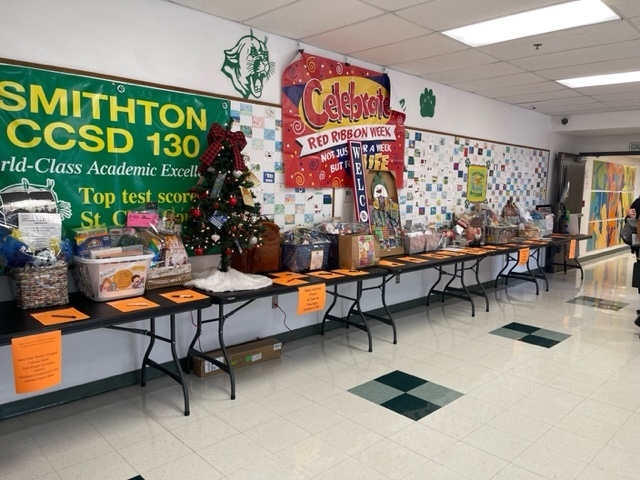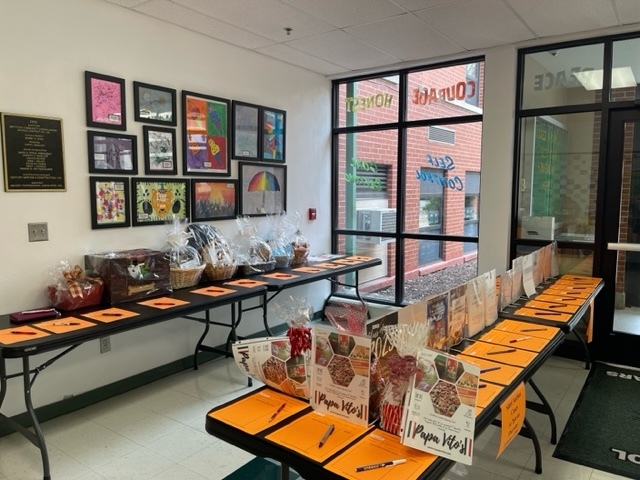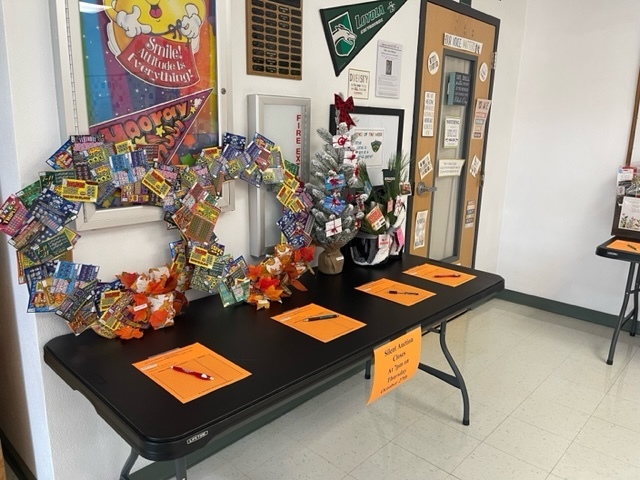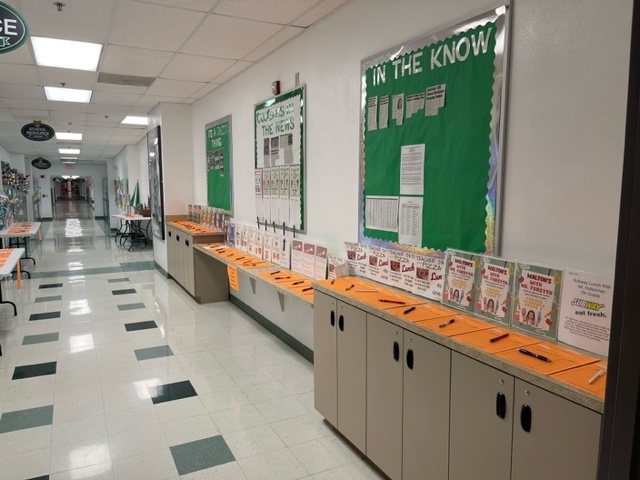 Mother / Son Skate Night is set for November 9th. We need 50 people (moms or mom-like figures & sons) in order to hold the event. Please sign up by THIS WEDNESDAY to attend!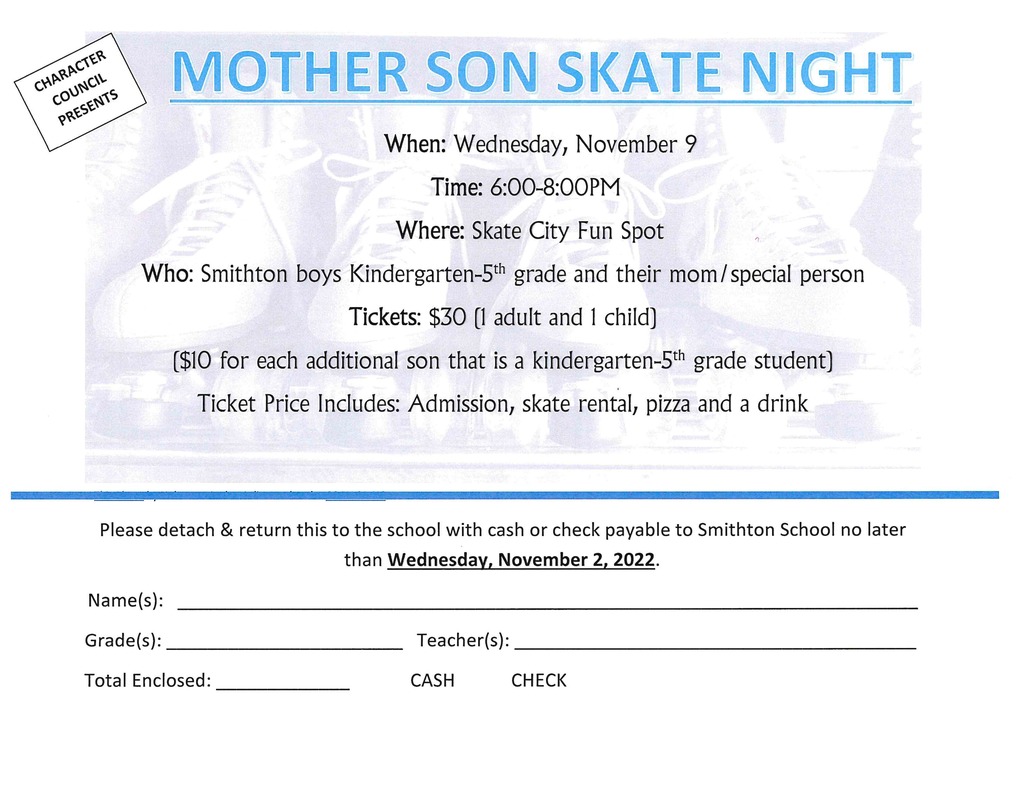 Mrs. LePere's 2nd Graders have really ben enjoying our new library!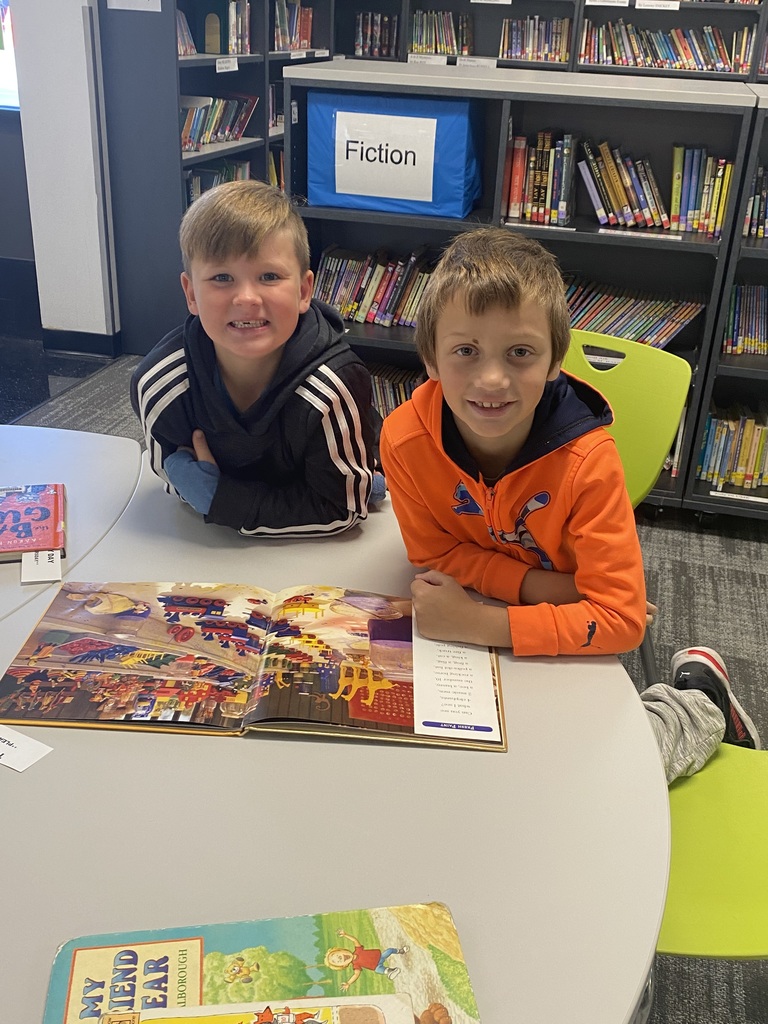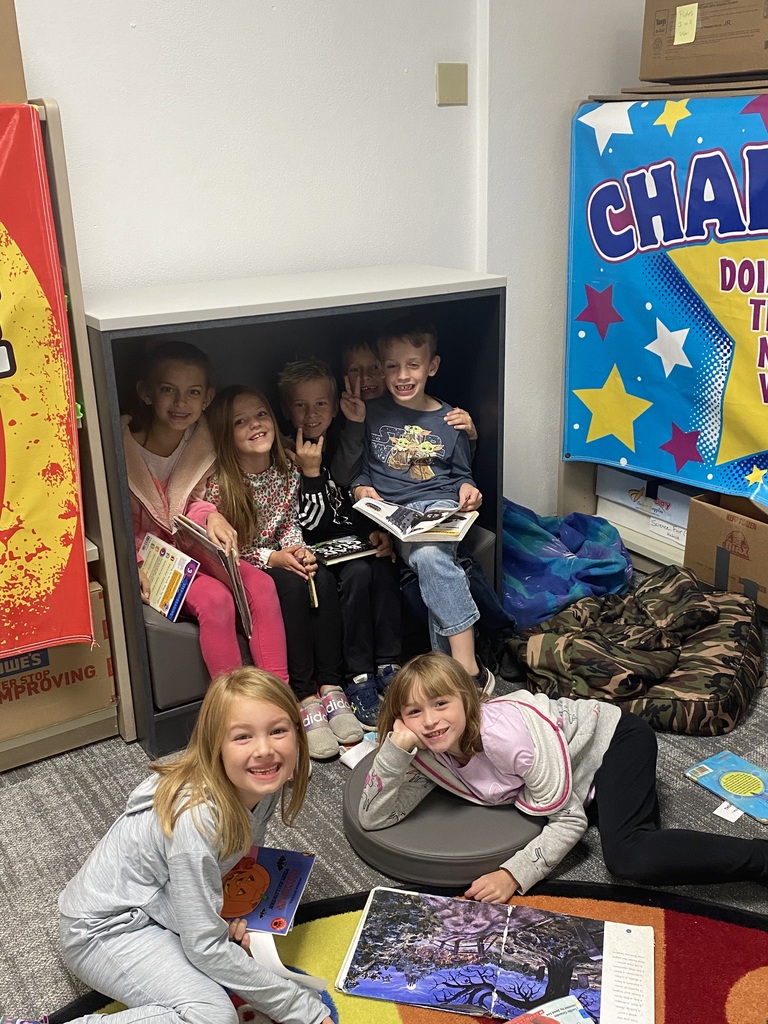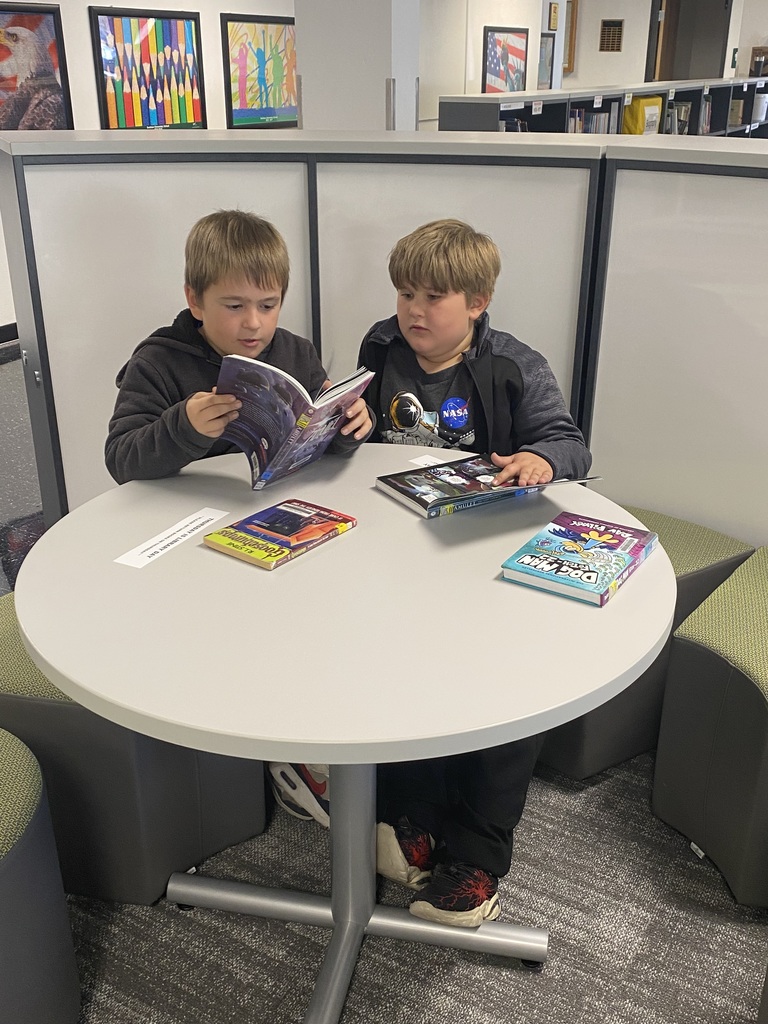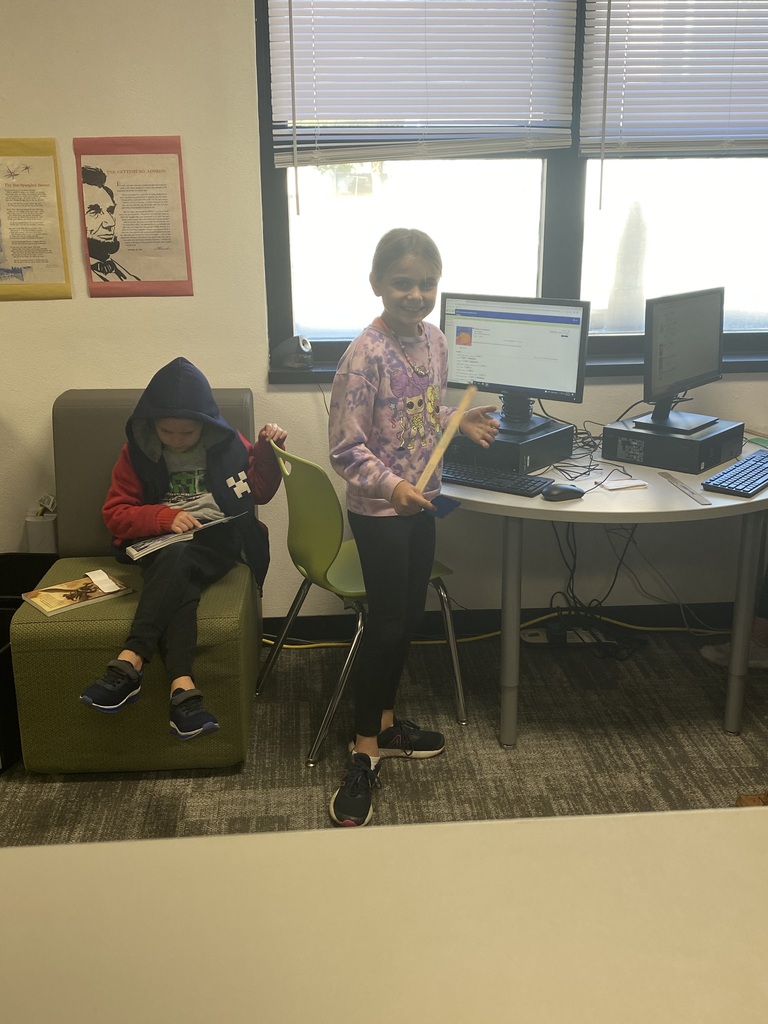 Next Week is Red Ribbon Week at Smithton School! Please see the flyer for each of our day's themes!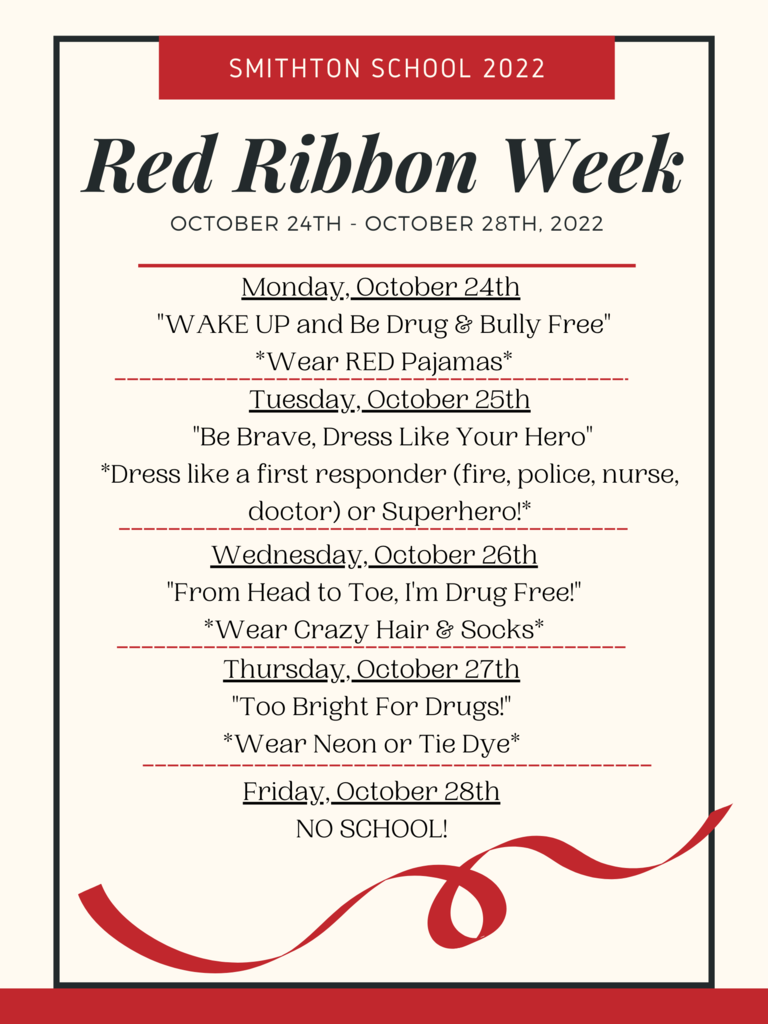 We are still looking for substitute custodians! Please share!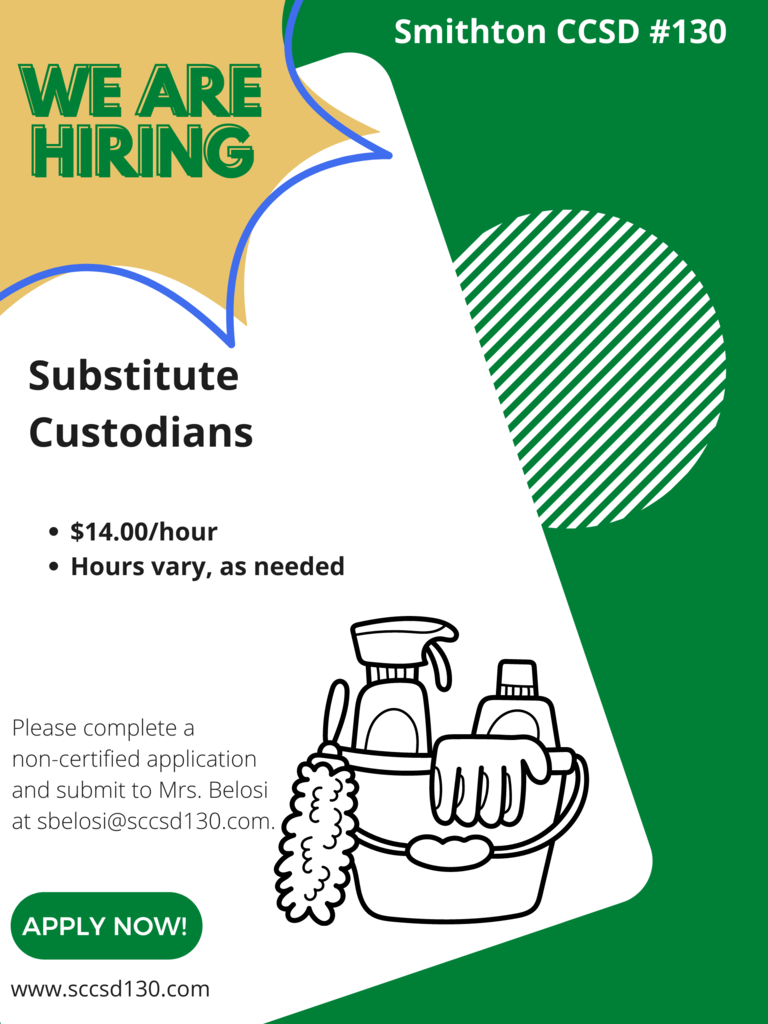 National Junior Honor Society sponsored a "Sock it to Cancer" campaign to raise money for Kellsie's Hope. Kellsie's Hope assists local families with children who have cancer, in addition to raising awareness and funds for childhood cancer. Smithton School students were able to raise $5379.38 in 4 days! The attached photos are of Mrs. LaFrence's 5th grade class - who raised the most money and earned a pizza party - and the students who won for the "best decorated sock" pictured with Mrs. Michelle Smith, sponsor of NJHS and Gail Marchbanks, the director of Kellsie's Hope. Thank you everyone!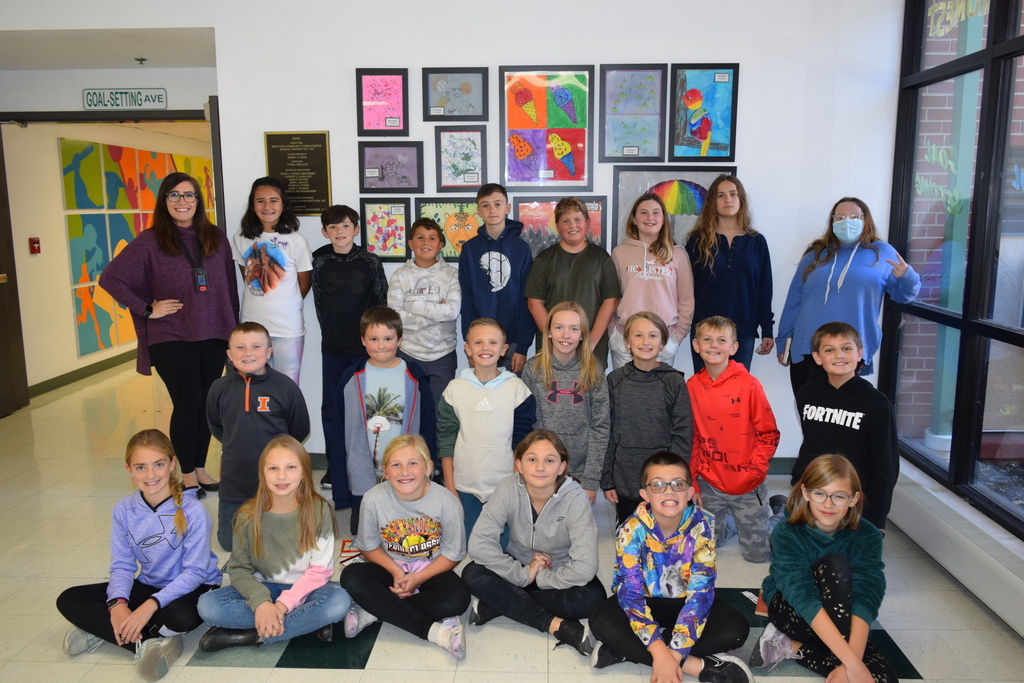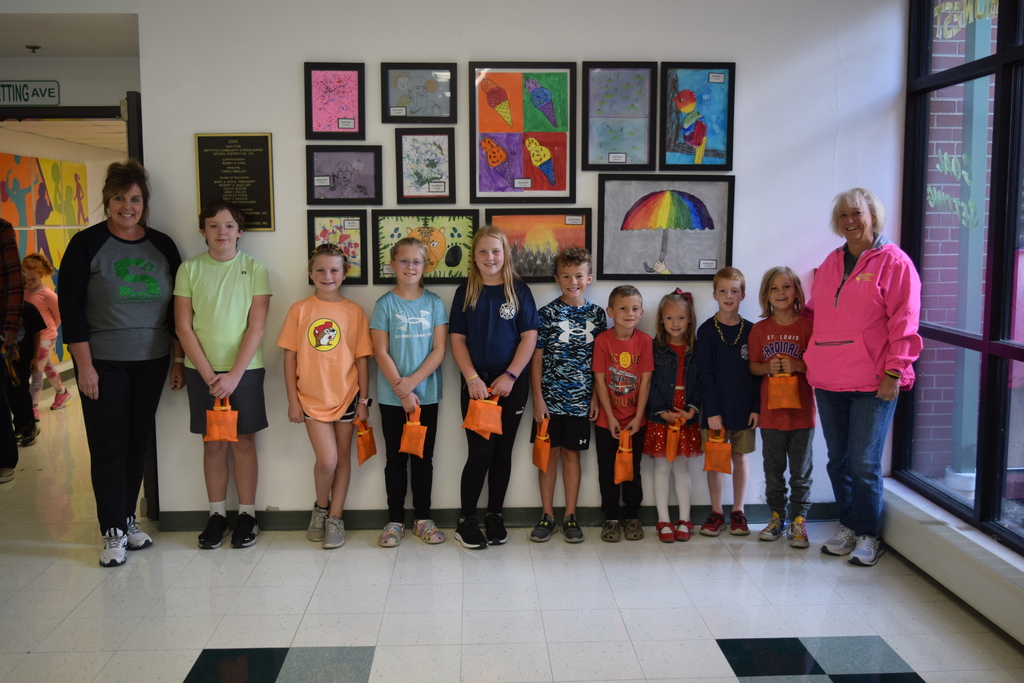 1st Grade is learning about Community Helpers this week. They had a guest speaker come in and read to them on Monday! It was our Student Resource Officer (SRO), Mr. Harris! 👮‍♀️ He is a community helper who helps keep us safe at school.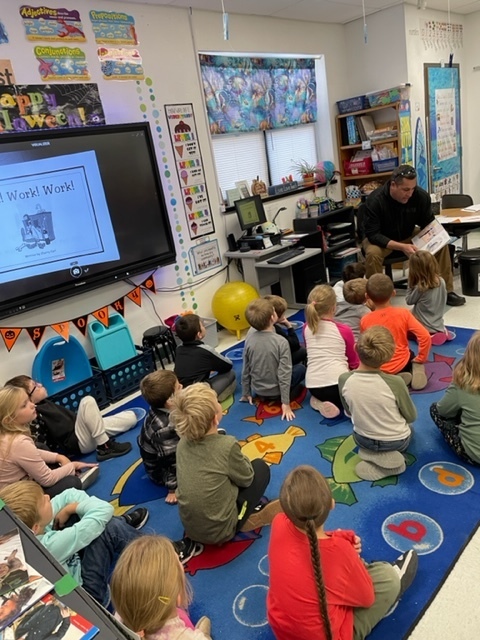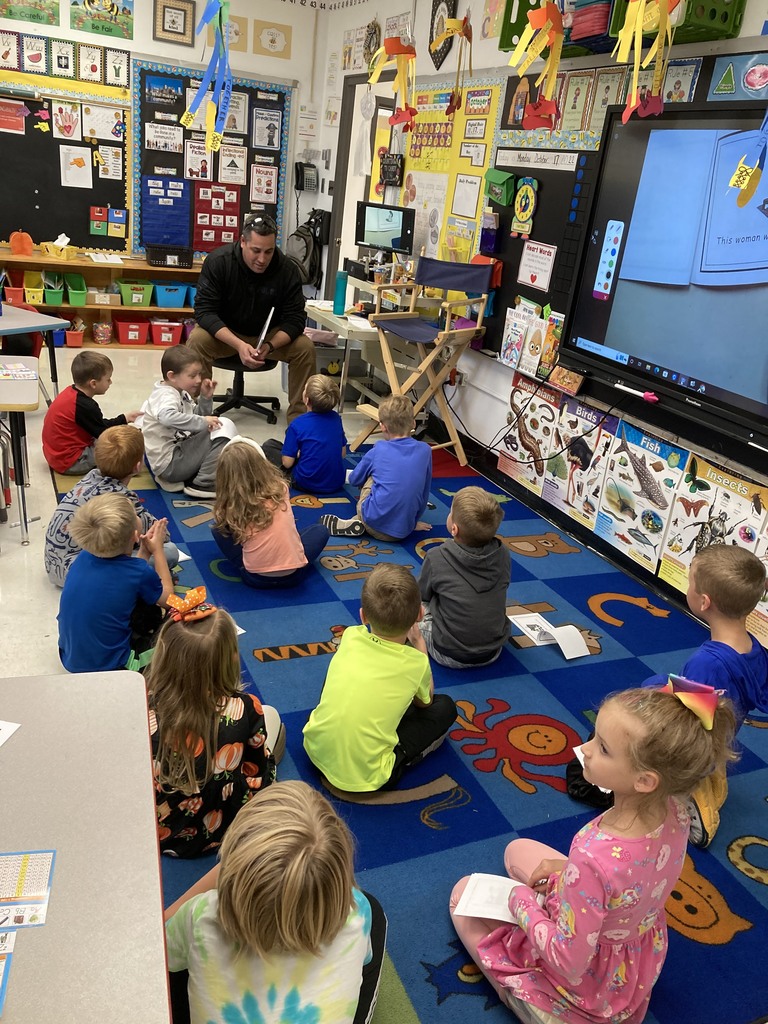 On Friday our 1st Graders took a trip to the Zoo! It was a beautiful day and they had so much fun exploring with parents & friends.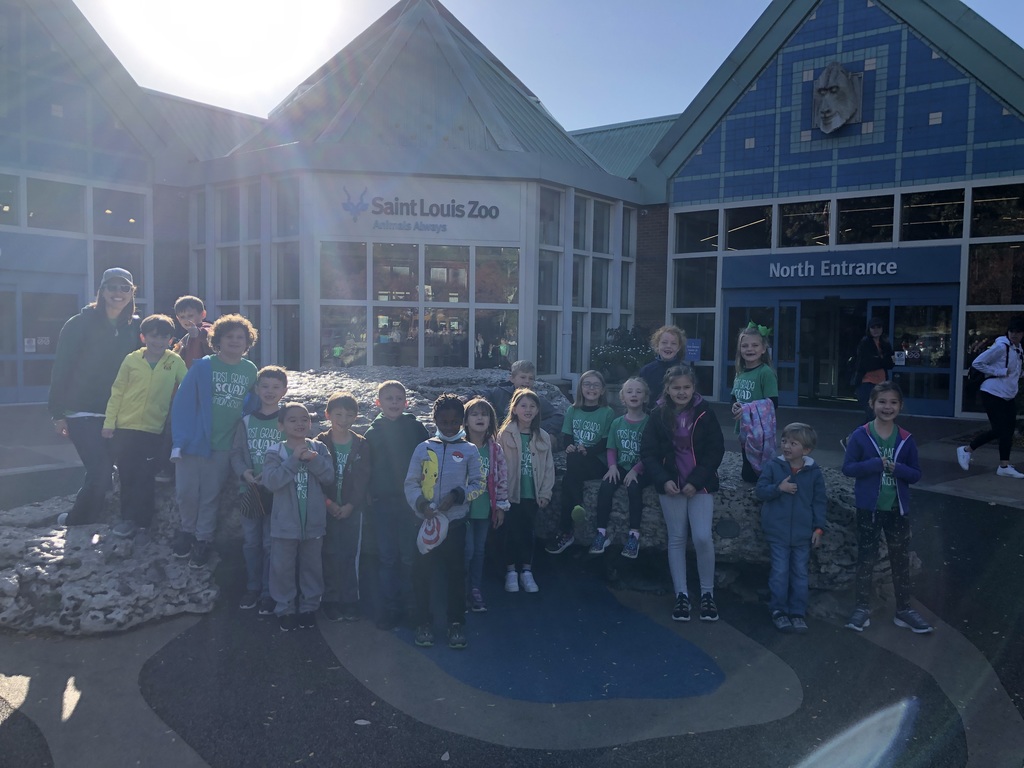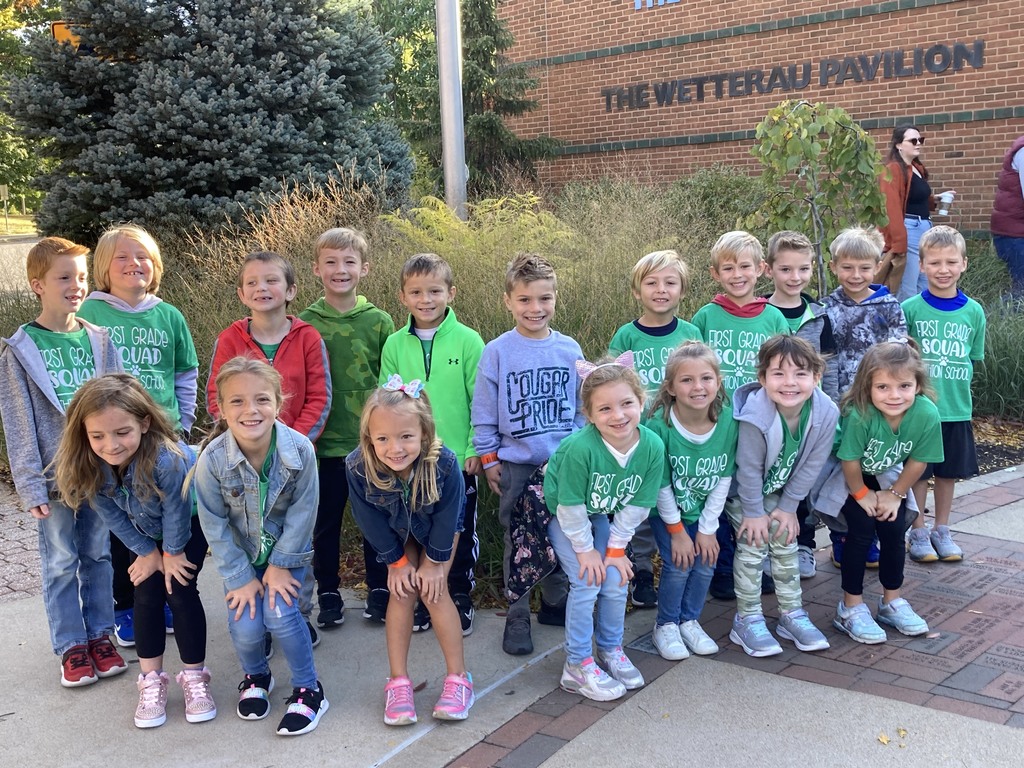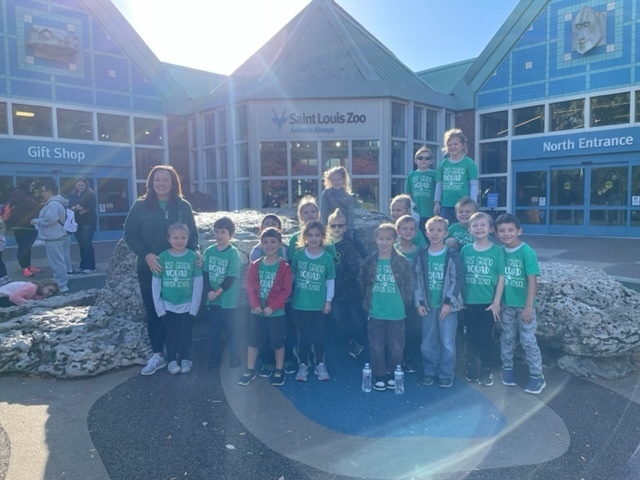 This week is Digital Citizenship Week in the US. Digital Citizenship can be defined as engaging in appropriate & responsible behavior when using technology. It encompasses digital literacy, ethics, etiquette, online safety and more. More information can be found here:
https://www.youtube.com/watch?v=ju9aOc2MLyo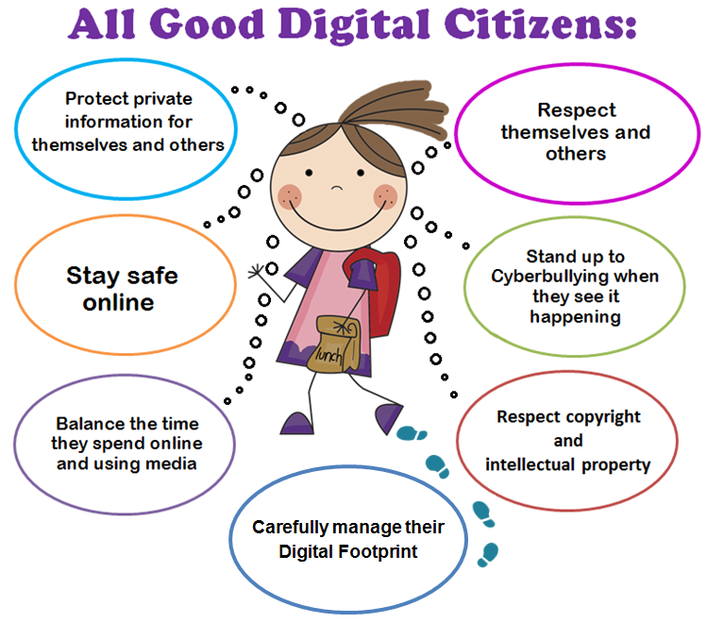 Good Luck to our Cross Country Teams today at the State Meet! Yesterday we had a "clap out" for the teams to wish them luck!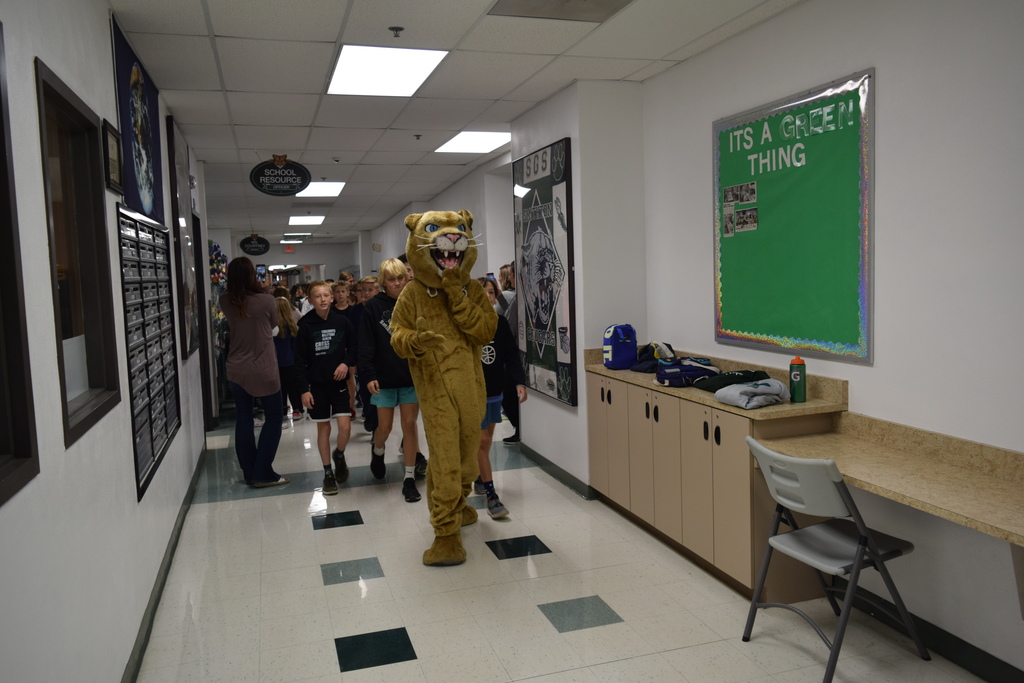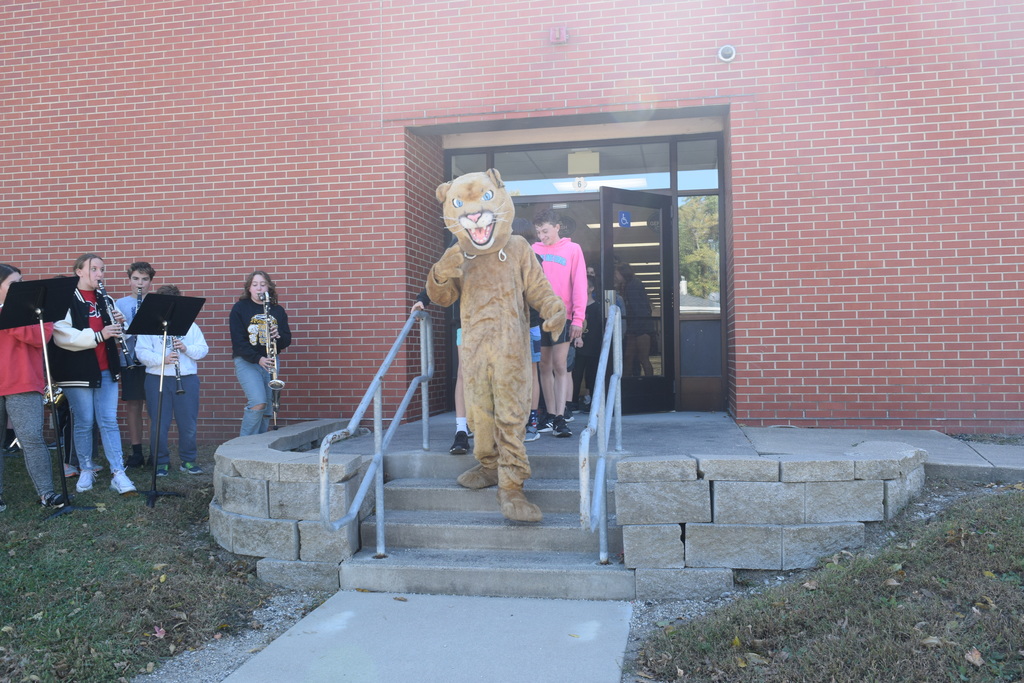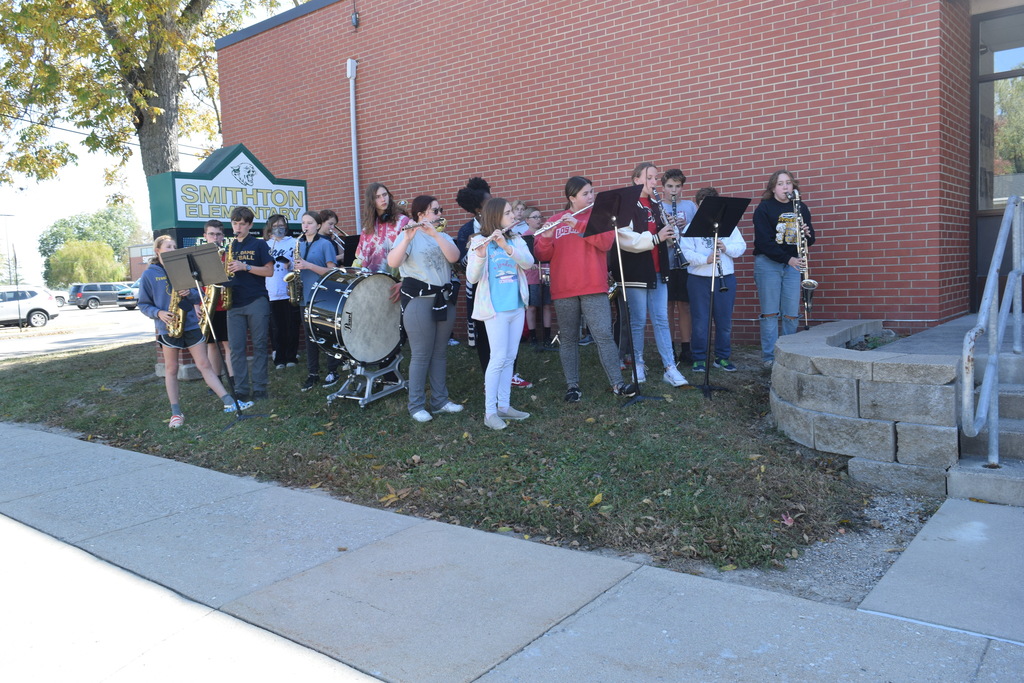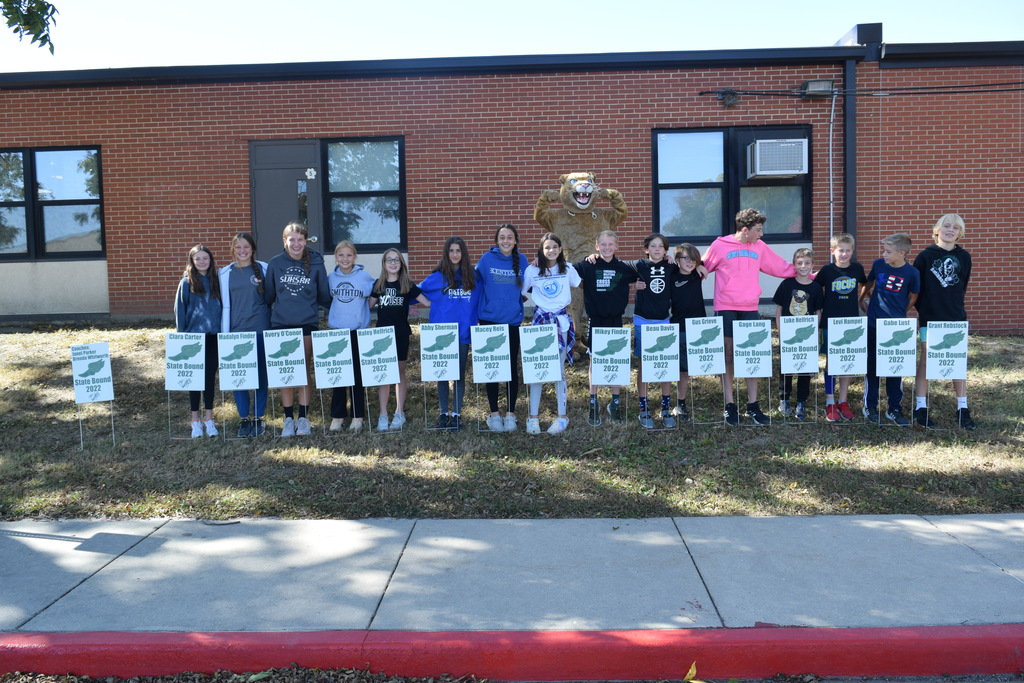 Kindergarten & 1st Grade learned about Fire Safety at the Smithton Firehouse today!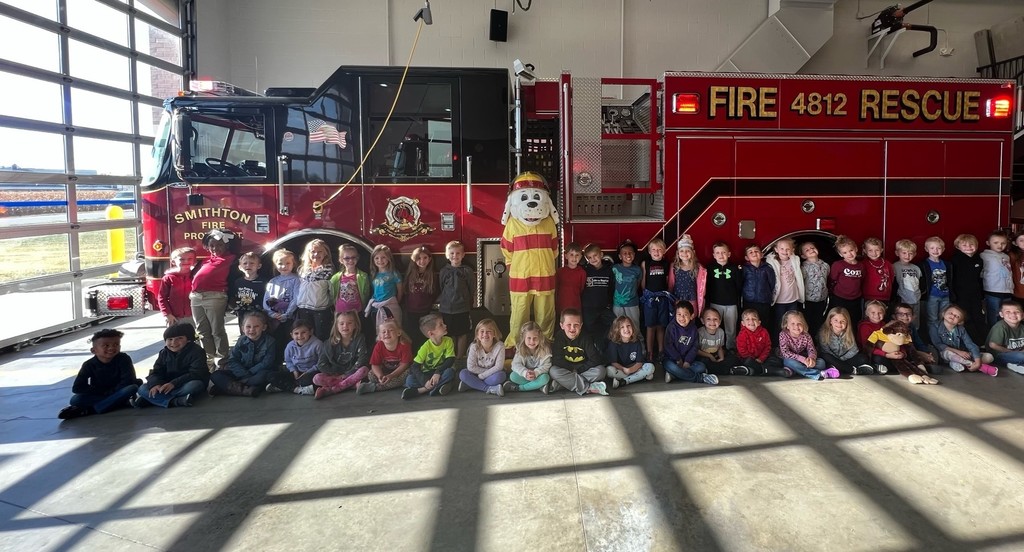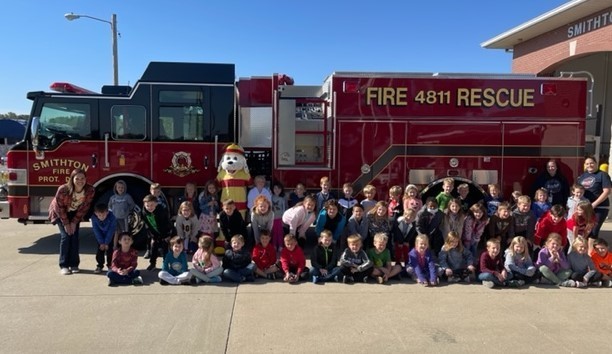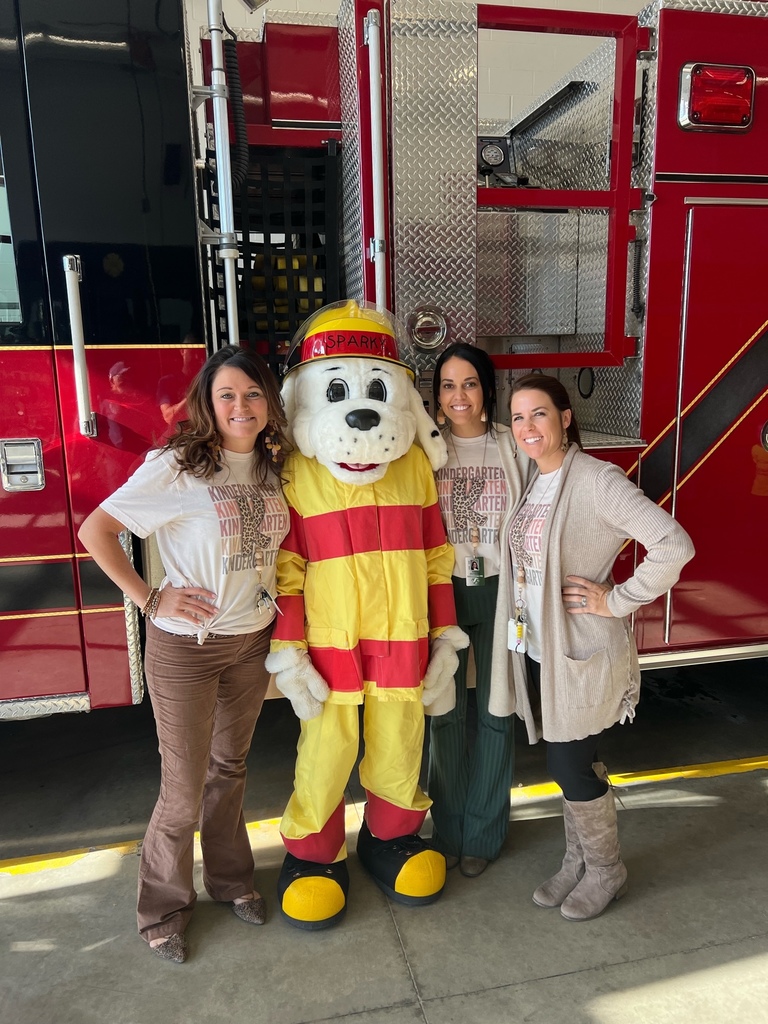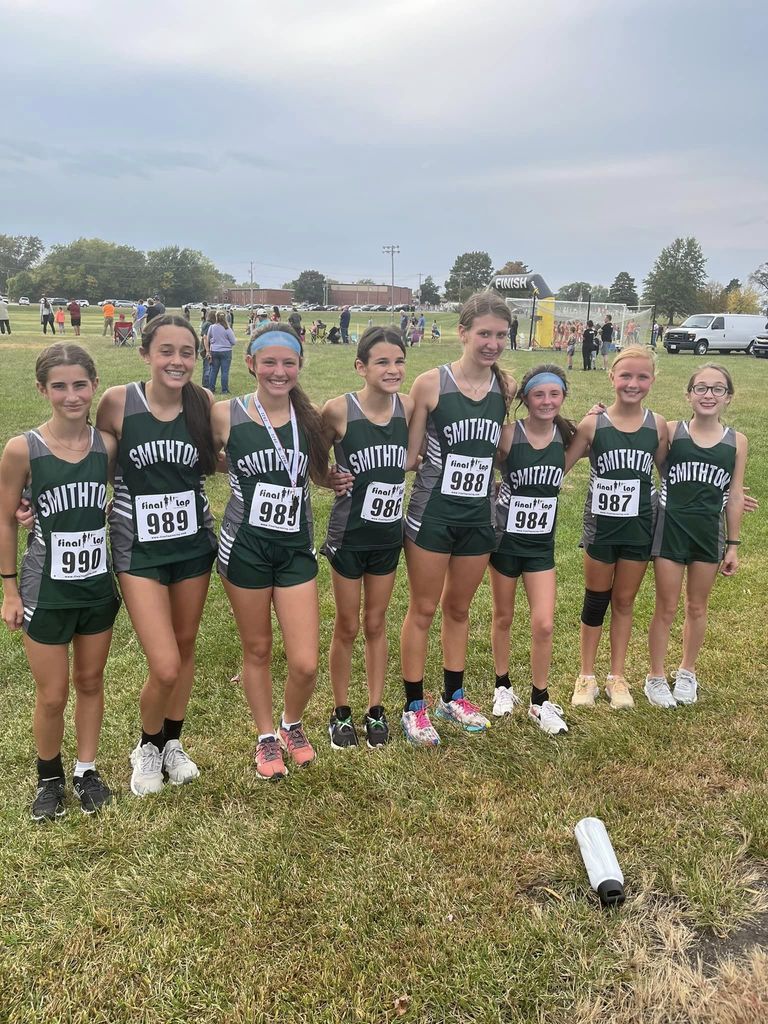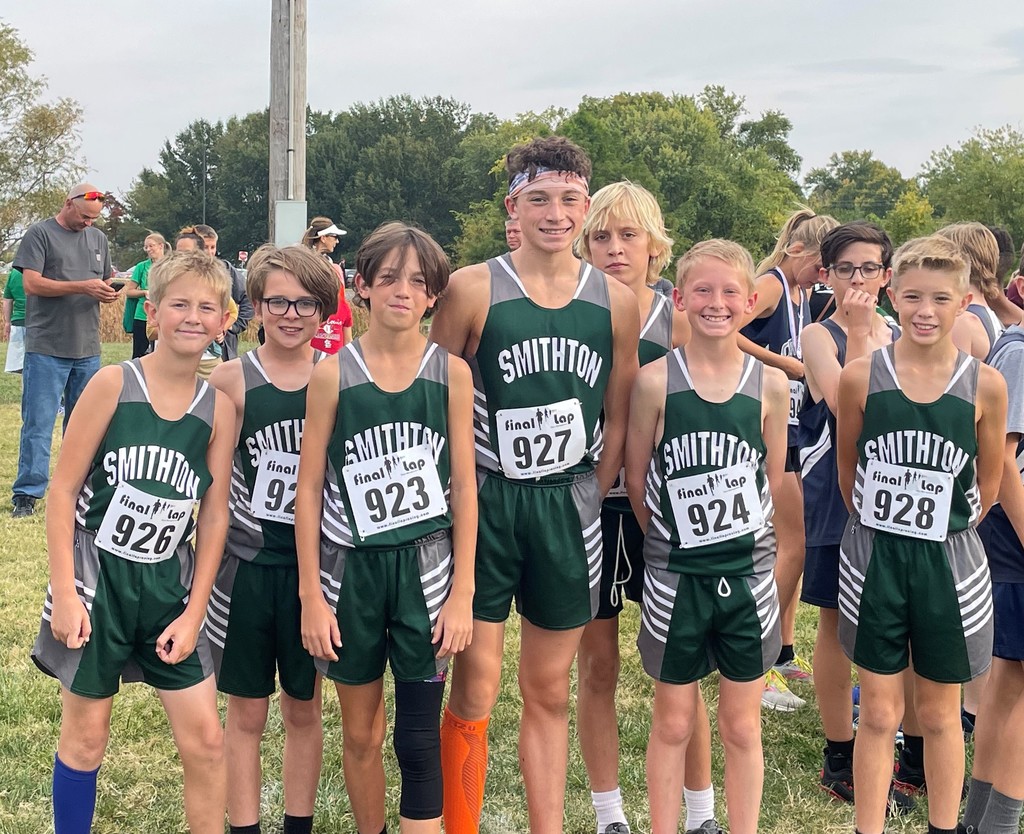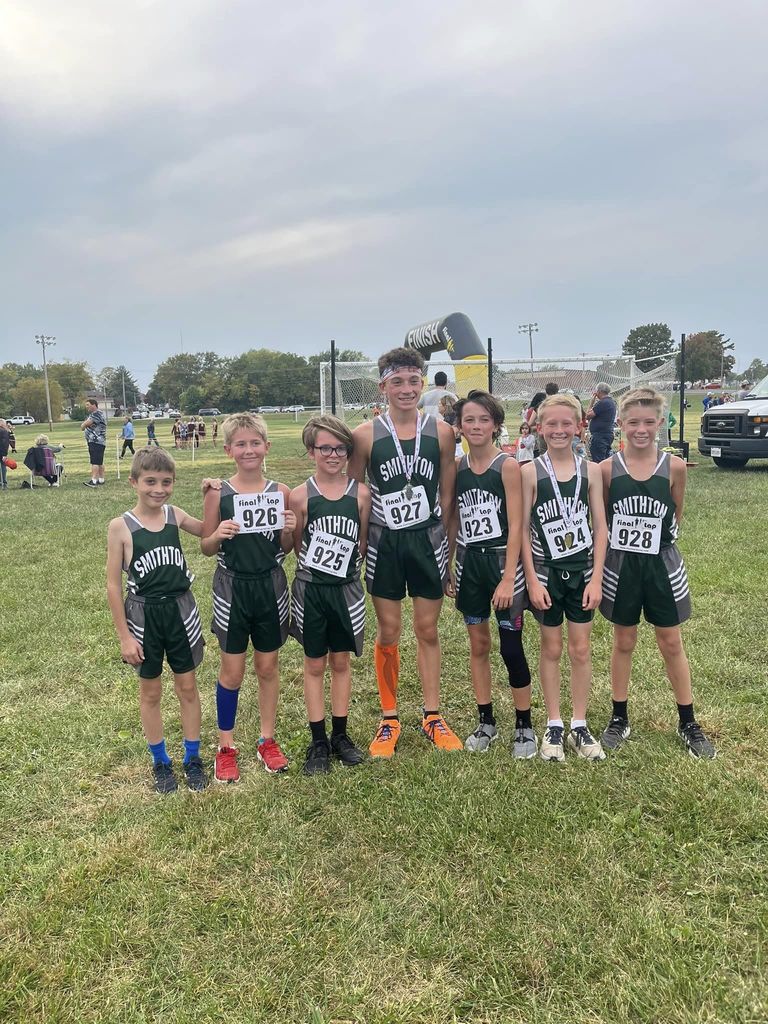 1st Grade collected money to adopt animals at the St. Louis Zoo. Enough money was collected for each class to adopt 3 animals! Mrs. Lucash's class: Spotted Hyena, Red-Kneed Tarantula and Reticulated Giraffe. Mrs. Gerberding's class: Spotted Hyena, Red-Kneed Tarantula and Chimpanzee Mrs. Lance's Class: Spotted Hyena, Red-Kneed Tarantula and Chimpanzee