Smithton CCSD #130 Strategic Plan
2022-2027
A strategic plan is the vehicle that allows an organization to look at its future. Through visioning, developing a mission, examining core values, and setting achievable goals, the district moves toward attainment of school improvement.

Strategic planning is an ongoing integrated process in high performing organizations. Over the course of the next several months, Smithton CCSD 130 will be implementing a strategic plan startup phase and the development/deployment of a strategic planning process.
Dr. Gary Kelly with the Illinois Association of School Administrators will serve as a consultant, to provide critical support for the startup phase, as well as the development of the strategic planning process.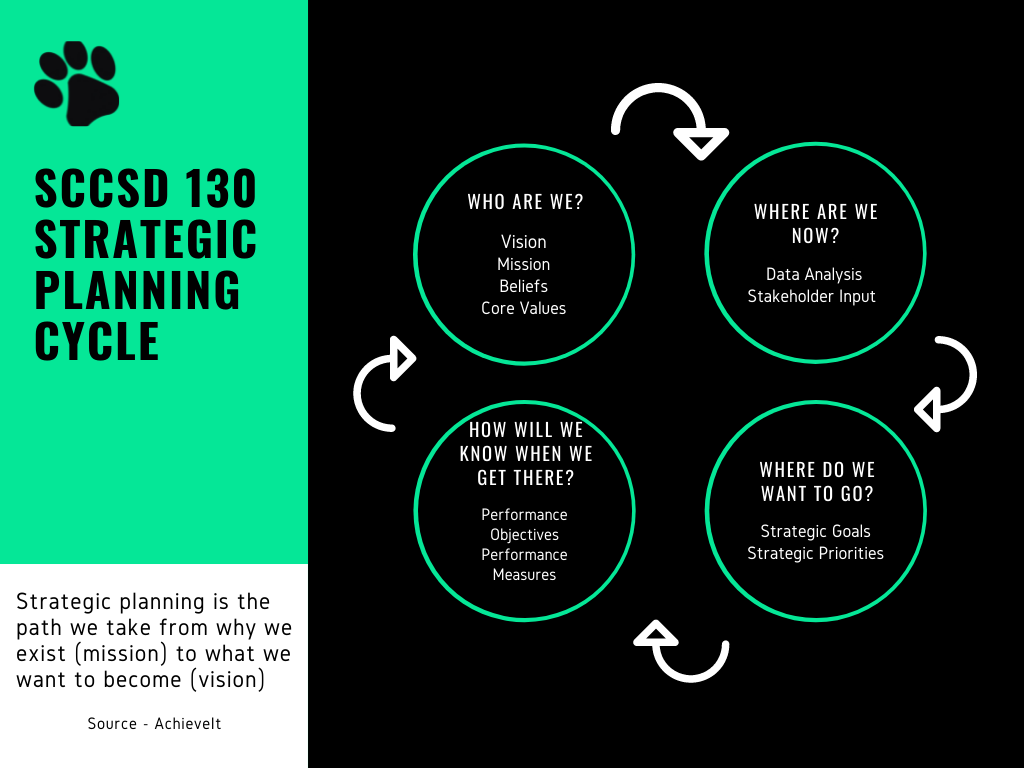 "Without continual growth and progress, such words as improvement, achievement, and success have no meaning."
Benjamin Franklin  
STARTUP PHASE
Establish a Strategic Advocacy Group

Establish a District Snapshot (Quality and Performance)

Establish Opportunities for Improvement

Establish Mission, Vision, and Values

Establish Goals and Performance Measures

Establish Action Plan
STRATEGIC ADVOCACY GROUP

A long-term group assembled to serve as SCCSD 130's development group committed to long-term strategic planning efforts.

How Was This Group Formed?

Key stakeholders were determined in collaboration with the Board of Education and district leadership. These individuals will engage in a series of work sessions to listen, learn, and strategize. The ideal size of this group is between 15-20 individuals.
COMMUNITY ENGAGEMENT

Input from the Smithton community is a priority. In order to reach a broader spectrum of stakeholders, a survey was distributed to staff, parents, business owners, and community members at large. The information collected from this survey will be examined by the Strategic Advocacy Group as part of the Startup Phase. Key themes and critical issues discovered will be communicated.