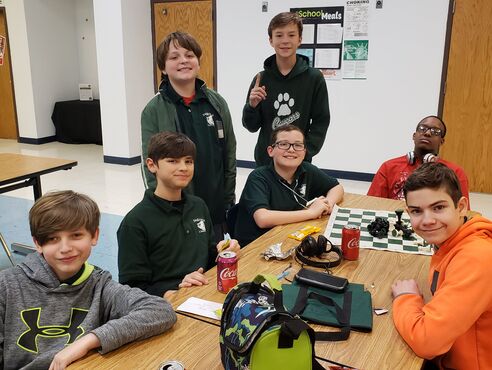 Interested students may obtain additional information from their teachers and the school office.
Academic Fair (Grades K-8)Academic Fair includes Art Fair, Science Fair & Young Authors)

Algebra Competition (Grades 6-8)

Art Club (Grades 6-8) (Sponsor: Mrs. Carter)

Band (Grades 5-8)

Character Council (Sponsor: Ms. Rainbolt)

Chess Club (Grades 6-8) (Sponsor: Mrs. Beggs)

Chorus (Grades 6-8)

Drama Club (Grades 6-8)

Geography Bee (Grades 6-8)

National Junior Honor Society (Sponsor: Mrs. M. Smith) Smithton NJHS By-Laws

Scholar Bowl (Grades 6-8) (Sponsor: Mrs. Runyon)

Spelling Bee (Grades 6-8)

Student Council
The Student Council is an opportunity for the students to help the community as well as build their social skills and show responsibility. Each student is responsible for attending a Student Council Meeting that will be held during lunch hours. The Student Council also sponsors the Spring 8th Grade Dance and is responsible for selling refreshments at the concession stand during basketball and volleyball games. The Student Council members earn money and donate it to different funds.

Talent Show (Grades K-8)

Tech Club (Grades 6-8)
The Smithton Tech Club is designed for students in grades 6-8 who have an interest in learning basic technology concepts and who will work collaboratively on projects that are engaging, educational, and fun.